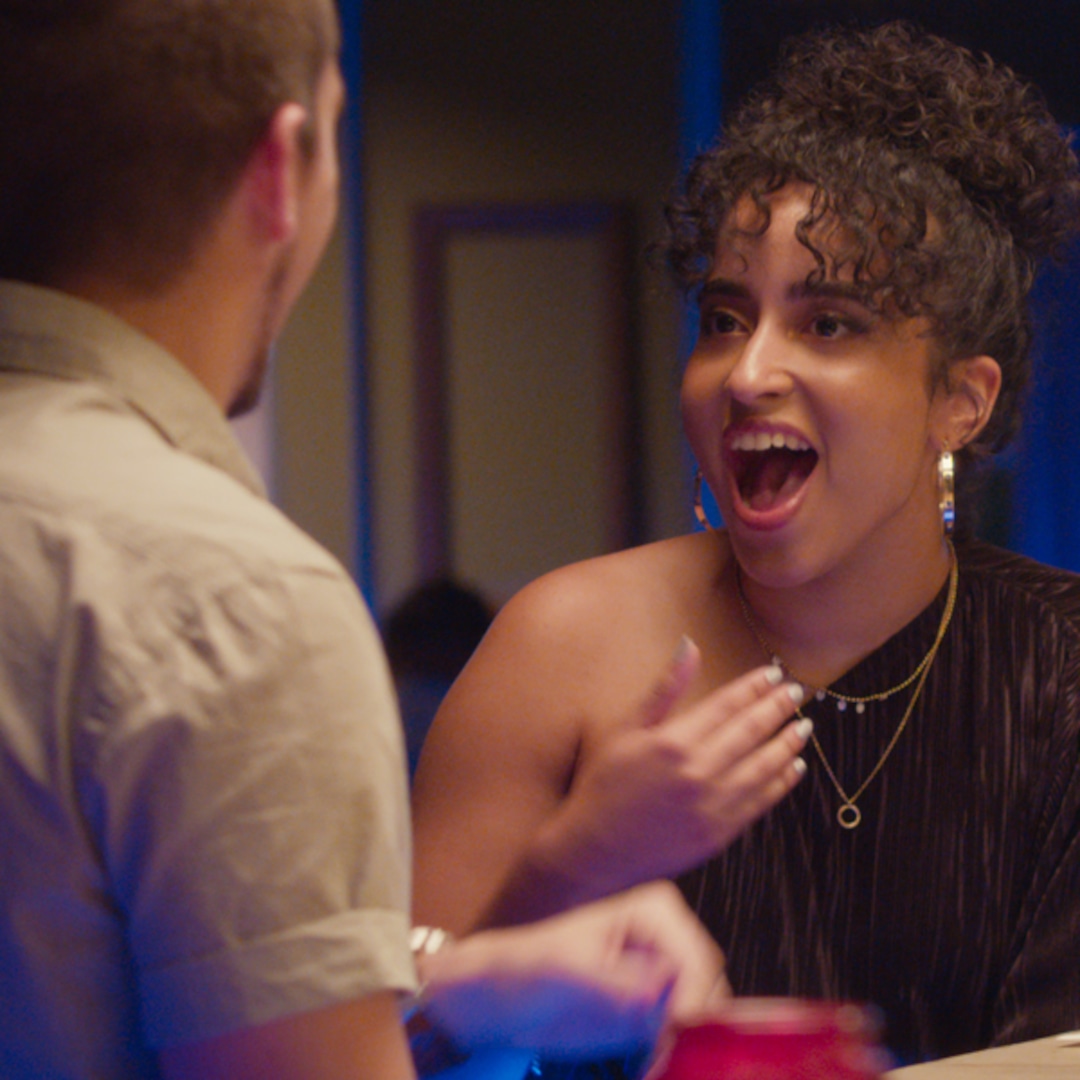 Giannina & Damian After "Love Is Blind" Wedding Disaster: "The Rundown"
Five blind dates. One second date.
That is the simple but compelling premise of Dating Around, Netflix's original reality dating series. While Love Is Blind and Too Hot to Handle may have made big splashes with their debut seasons earlier this year, Dating Around, which just dropped its second season, was actually the streaming giant's first foray into the genre and may be the realest reality show on TV.
Each episode features one lead dater who goes on five blind dates in a Groundhog's Day sort of way: almost everything is the same (the clothes, the hair, the restaurant, the atmosphere) except for the person they are on the date with, with Dating Around seamlessly editing the five dates to come together.
It's a fascinating social experiment, representing all different kinds of dating—season one's Leonard was a senior citizen and season two featured the show's first bisexual lead dater, Deva—and making for some super-relatable and super-awkward moments.
But just how real is the show? And how did they cast the lead dater as well as the blind dates?
Check out these 13 surprising secrets about Dating Around, as revealed by executive producer Chris Culvenor and others…
1. The original name for the show was Kaleidoscope "because it was about a kaleidoscope of dating," Culvenor said on the Bachelor Party podcast. "The idea was when you are dating…it kind of turns into this almost kaleidoscope or carousel of places, faces and experiences. That's what we wanted to capture…we wanted to capture more the experience, the journey of what it's really like to go on this dating carousel."
2. The lead dater is required to wear the same outfit and style their hair and make-up the same way on each date, which all take place at the same restaurant.
"That was really about the editing of the show," Culvenor explained on the same podcast. "We wanted them to cut seamlessly together to create that sort of dream-scape scenario that you see in the show. We try to be very hands-off…but that was one creative call that we made, so it really flows from one date to the next."
3. Season one showrunner Alycia Rossiter is no stranger to reality dating TV shows: She worked on The Bachelor franchise shows for over 10 years.
4. Production only lasts one week, but it requires a total commitment from the lead dater.
"We asked them to take off work—which, I'll say that's probably the most unrealistic aspect of the show," Rossiter told Vulture. "Most people can't go on five dates in five nights and still handle the regularities of their everyday life. Within that week, they told their friends and family and their employers that their first priority was this show, and they went on their dates and met all the strangers."
5. Unlike many other reality series, the interactions between producers and the cast members is pretty limited, with no in-the-moment interviews or real guidance.
"I will say the producer inside of us at times was just like, Wow, this edit would be so much easier if we just had an interview," Culvenor admitted to Vulture. "We had to fight that instinct, because we knew that's the great and terrifying thing about going on a first date."
6. As for why the first season was set in New York, Culvenor revealed on the Bachelor Party podcast, "There's no coincidence that so many rom-coms take place in New York. It's almost a city that universally is seen as this place were dreams are made. Even as a kid growing up in Sydney, New York felt familiar to me because I had seen it on Friends, I had seen it on Seinfeld…it felt like the obvious for a first season. The other thing New York brings is this amazing wealth of characters for casting."
7. While season two remained in the states, moving to New Orleans, Culvenor is hoping to explore internationally in future seasons. "I'd love to see how a date going in Tokyo…or London…or Madrid, that's something that would be really interesting," he told The Ringer.
8. The "hard" casting process took four months and was exhaustive, with Culvenor saying on the Bachelor Party podcast,"It was going to bars. It was going to offices, to sporting events, it was really an all-out street casting process."
In an interview with Vulture, Rossiter added, "We went to bridge clubs, we went to libraries, we went to bookstores, we tried to go to places that weren't necessarily top-level meat-market destinations."
9. When it came to the daters they were looking for, Culvenor told Vulture, "We weren't trying to create crazy, Champagne-in-the-face reality-show moments, which are so outrageous and unbelievable…because I think that would just lose the credibility of the show, and potentially the trust of the audience."
10. While none of the six couples from the first season ended up staying together, the producers didn't mind at all, with Rossiter telling Vulture, "I didn't want to matchmake on this show…the show, for me, was about romance and possibility and a moment of connection when you have dinner with one person for one night."
11. That includes letting the lead dater control the outcome, even if it means not picking anyone to go on a second date with like in season one giving out their number during dates.
"We certainly wanted the idea of the second date to pay off for the audience," Culvenor explained to Vanity Fair, "but we didn't want to be so prescriptive, to I guess limit our daters into what they truly and honestly wanted to do."
12. While producer involvement was minimal, they did occasionally offer suggestions.
"While it wasn't scripted or specifically directed, [the producers] did try to steer it when the ship was off course," season one's Lex Liang told Time. "At a certain point, I believe the creator took me aside and said, 'You're really good at getting information out of your fellow daters. Tell us a little bit more about you and let yourself be a little vulnerable.'"
13. Despite revealing who the lead dater chose to go on a second date with, the show offers no further updates on the romances. "[It] feels so unromantic," Rossiter simply told Vulture.
Dating Around is streaming on Netflix.
Watch Daily Pop weekdays at 12:30 p.m., only on E!