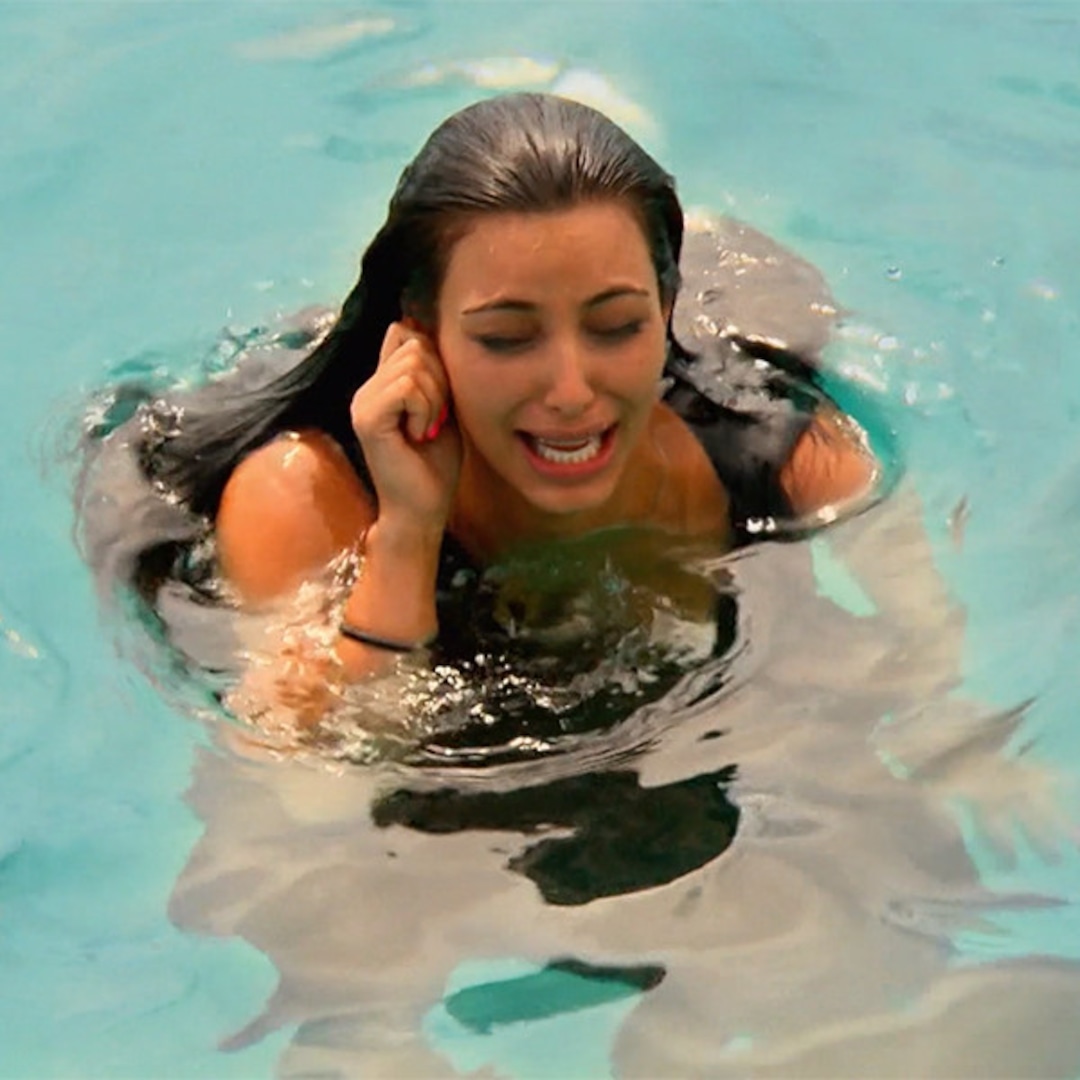 Kim Kardashian Gets Hysterical Over Lost Earring
This June, E! turns 30! To celebrate we're looking back at the most monumental moments in pop culture.
It's hard to believe there was ever a time that Keeping Up With the Kardashians wasn't a regular fixture on our televisions screens, especially since the E! series premiered nearly 13 years ago.
Since then, we've witnessed the Kardashian-Jenner clan face the highest of highs and lowest of lows—the latter including everything from sisterly spats to messy break-ups. However, there's also been a flurry of momentous occasions (like the birth of Kourtney, Kim, Khloe and Kylie's children!).
And of course, through all of the ups and downs, there's been one constant: chaos.
This includes both lighthearted fun—say, Khloe and Scott Disick pulling pranks on Kris Jenner—and the more dramatic, like Kim losing a diamond earring in the ocean (don't worry, she eventually found it).
Though there's certainly too many to count, we've done our best to gather the most jaw-dropping moments from Keeping Up With the Kardashians. Relive them all by scrolling through the gallery below!
Then catch up with your favorite family by watching full episodes of Kardashians here before season 18 returns in September!
Keeping Up With the Kardashians returns this September, only on E!
Khloe Goes to Jail
Who can forget the time Khloe was on her way to jail, and Kim couldn't stop taking selfies. "Kim, would you stop taking pictures of yourself? Your sister's going to jail," Kris famously said. LOL!
Kris Learns How to Pole Dance
Kourtney Waxes Khloe's Vagina
When Khloe needed to get her lady parts waxed for hubby Lamar Odom, there was only one woman for the job—Kourtney. Doesn't get more ride or die than that.
Kim Beats Khloe with Her Purse
This was the episode where the world learned exactly what happens when you're rude to Kim Kardashian. Kim hit Khloe with her handbag over and over again while saying, "Don't be f–king rude!" Lesson learned.
Kris Pees Herself
We died laughing when Khloe wouldn't let Kris in the car and Kris couldn't hold it any longer! When you gotta go, you gotta go!
Kris Gets Tipsy in Napa
The girls go to a winery in Napa, and Kris has a little to much to drink. While Kourtney and Khloe are sitting in the car Facetiming with French Montana, Kris greets him with a, "Hello, mother f–ker!"
Food Fight at Kylie's
Kylie finally has her own place! But no home is truly broken in until your sisters have a guacamole food fight at the dinner table.
Scott Officially Becomes a Lord
Scott was officially dubbed a Lord and became London royalty right before our eyes. Lord Disick lives on!
Kourtney's Bum Lip
Nothing was funnier than watching Kourtney struggle to have a conversation with Khloe while her mouth was completely numb from her trip to the dentist.
Scott Prank Calls Kris
Scott Disick has been known to pull a few pranks in his day, but the time he prank called Kris pretending to be Todd Kraines was legendary. "Auntie Kris, it's me! It's Todd Kraines!" will go down in history as our favorite quote ever.
Kim Loses Her Diamond Earring
Kim crying over her lost diamond earring was tragic, but thank God Kourtney was there to add a little perspective:"Kim, there's people that are dying." Well said, Kourtney. At least they found the earring!
"Is That A Chicken?!"
What's your favorite over-the-top moment from Keeping Up With the Kardashians? Let us know!
Keeping Up With the Kardashians returns this September, only on E!