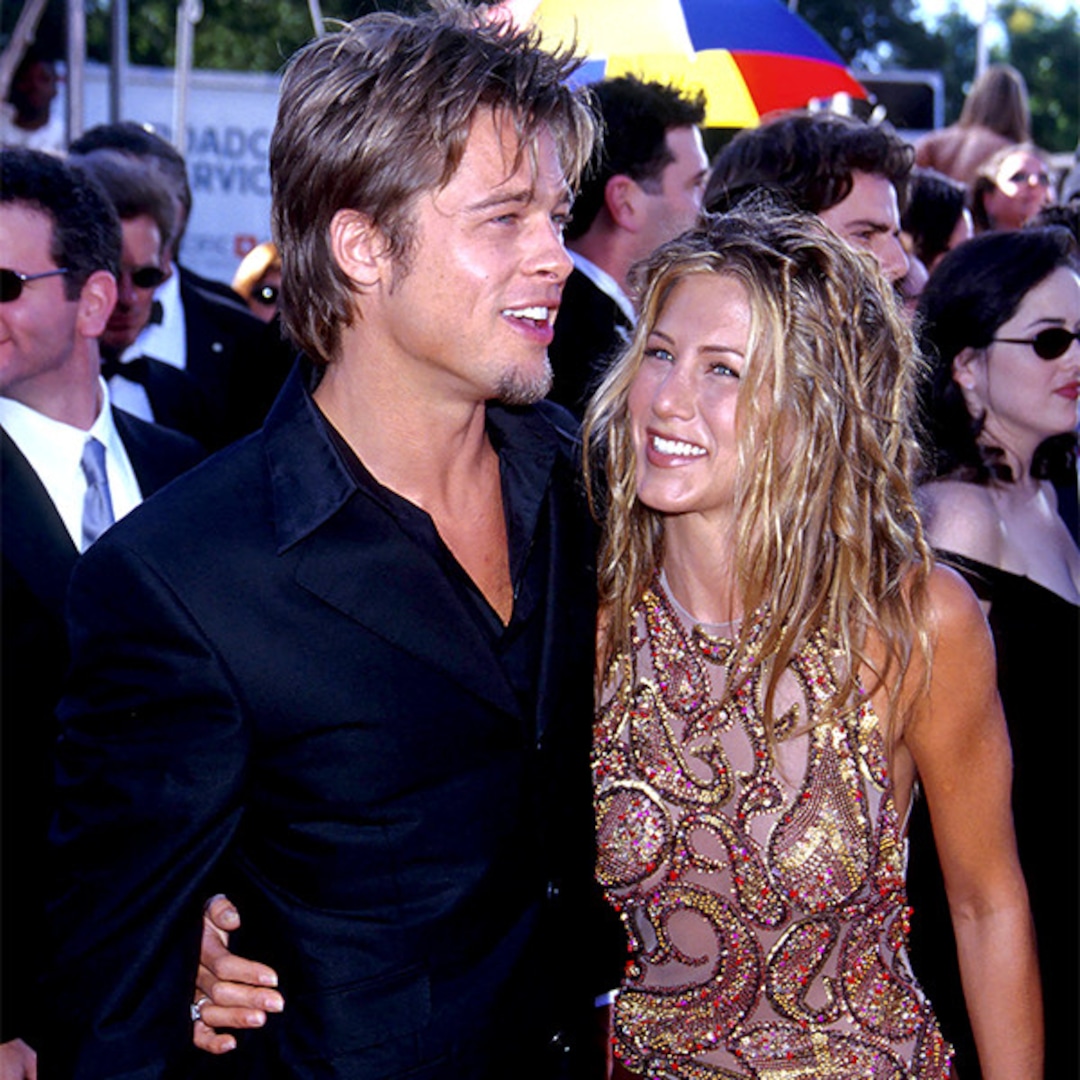 E!'s 30th Birthday: Giuliana Rancic's Earliest Interviews
This June, E! turns 30! To celebrate we're looking back at the most monumental moments in pop culture.
Here at E! News, we don't just do pop culture. We live and breathe it!
So when the time came around to properly raise a toast to E!'s three decades in show biz, a trip down memory lane from the perspectives of those inside our newsroom felt only fitting.
We polled the hardworking, passionate members of our staff on the pop culture moments that first inspired their love of all things entertainment, the red carpet interactions they'll never forget and the breaking news stories that left a major impact.
Spoiler alert: The team here at E! News has reported on the front lines of some of the biggest moments in Hollywood history, and we've got stories to tell!
From Brad Pitt and Jennifer Aniston's shocking separation to Beyoncé's epic pregnancy announcements, these are the moments that have made us fall in love with the lifestyles of the rich and famous over and over again.
Brad Pitt and Jennifer Aniston's 2005 Split
Headlines screamed "Baby Time" when Jennifer Aniston and husband Brad Pitt were spotted on what seemed to be a romantic beach stroll in Anguilla following the Friends series finale. Like everyone, I assumed it was a trip to celebrate the end of her hit show and the start of a new chapter for the couple. Instead, the world was stunned when they returned home and announced their separation. I remember being equal parts devastated at the end of what seemed to be the ultimate Hollywood romance and impressed with their ability to keep such a major decision completely private until they were ready. They announced in their time their time, on their terms. —Beth Sobol
Standard/REX/Shutterstock
Prince William & Kate Middleton's 2011 Royal Wedding
I love a royal wedding! I was actually studying abroad in London when Prince William and Kate Middleton tied the knot and got to help cover their big day as part of an internship. I remember getting to the office super early to make sure I didn't miss a minute of the ceremony. After work, I headed to the front of Buckingham Palace to see if I could catch a glimpse of the couple. I got there just in time and spotted the newlyweds driving by and waving to royal admirers. — Elyse Dupre
Beyoncé's Pregnancy Announcement at the 2011 MTV VMAs
Beyoncé has been the queen of many things but her reign with surprises has always left me in awe. I'll never forget watching her jaw-dropping vocal climb of "Love On Top" at the 2011 VMAs. The performance was flawless, the audience erupted in applause, but what really engrained this moment into my mind was her casual pregnancy announcement after literally dropping the mic on us. We are truly blessed to be born in the era of Beyoncé. — Chaz Delgado
2008 Beijing Olympics
The Summer Olympics never disappoint, but the 2008 Beijing games were extraordinary. I vividly remember gathering around the TV every night with my family to cheer on Michael Phelps and his enthusiastic mom during those 8 record-breaking gold medal races. The return of sports and the 2021 Summer Olympics cannot come soon enough. USA! USA! — Mike Vulpo
Kevin Winter/Getty Images
Cory Monteith's 2013 Death
I remember so vividly waking up in the middle of the night and seeing an alert on my phone that Cory had died from an overdose. It's one of the first celebrity deaths that really impacted me and changed the way I thought of stars. He was from my generation, someone I watched on TV and felt like I knew. Cory's passing put into focus how intertwined we find ourselves with celebrities and how, even though we don't personally know someone, they still can feel close to your heart. — Jamie Blynn
VALERY HACHE/AFP/Getty Images
Joan Rivers's Legacy at E!
It started with Joan Rivers on E!'s Live From the Red Carpet at the award shows. All my life, it was a tradition to join with friends and family to watch the Golden Globes, Grammys and Oscars. We always gathered early to flip on E! so we didn't miss a second of Joan on the carpet. We laughed our faces off while I'd obsessively dream about what it's like to actually be there. Watching Joan was the genesis of my fanaticism with celebrities. Now, it's my job to attend those shows and I'm forever grateful to Joan for inspiring me to live out my dream. I knows she's up there still cracking insane jokes about all the wild red carpets we've seen since she's been gone. — Alli Rosenbloom
Karl Schoendorfer/Shutterstock
Michael Jackson's 2009 Death
I happened to be walking around that day before our cell phones were really smart, and people were running up to each other on the street asking each other if they heard the news [that Jackson died.] It was a watershed moment in celebrity culture for sure. It rippled globally the moment the news broke. — Jessica Finn
Themba Hadebe/AP/Shutterstock
Saying Goodbye to The Oprah Winfrey Show in 2011
The Oprah Winfrey Show was something that had a great impact of my life. It was something that I watched with my mother as a child and into my adulthood. When I went to college, my sorority sisters and I watched it everyday. No matter what the show was about it was a guarantee watch and we often cried, laughed and learned from her and the guests on the show. Every week my mom would call me and we'd talk about what was on Oprah that week. When I started here at E! I was grateful that we had TV's at our desks because I could listen in and my co-workers never missed a day. I'm sure for most of her viewers, the last show was super emotional. So emotional that at E!, we made Moscow mule's in her honor since we know she loves them so much. I definitely learned so much from watching this show and I imagine that it had a lasting effect on a lot of other people in the world. — Lindsay Scheinberg
Lady Gaga's Big Debut
As a middle schooler, I remember begging my mom take me to live tapings of So You Think Dance every summer. It was then, in 2008, that a little-known pop singer who went by Lady Gaga would make one of her very first television appearances singing "Just Dance" on the Fox competition series. Gaga's platinum blonde bangs, her high-rise leotard and choreography was unlike anything I (and pretty much the entire world) had seen at the time, and I instantly became a Little Monster. After that, Gaga's career skyrocketed. One might even say… a star was born! — McKenna Aiello
FameFlynetUK/FAMEFLYNET PICTURES
Taylor Swift and Tom Hiddleston's 2016 Summer of Love
There is perhaps no greater celeb romance than that of Taylor Swift and Tom Hiddleston, a.k.a. Hiddleswift, in the summer of 2016. I remember seeing them bust a move at the Met Gala and thinking, 'That's an interesting pairing.' Little did I know that T. Swift would split from Calvin Harris and be caught snogging, as the Brits would say, Tom over a month later. From that point on, they became the gift that kept on giving. Who could forget Tom wearing a shirt that read 'I heart T.S.'? — Cydney Contreras
Beyoncé's 2015 Pregnancy Announcement
I'm a huge Beyoncé fan. I have every album, been to multiple concerts and even had the pleasure of meeting her mom in the grocery store! I will never forget being in the office when she announced her pregnancy in lingerie, a green veil, surrounded by flowers. She posted on Instagram holding her belly so clearly she was pregnant. I recall falling off my chair and yelled, 'Oh my God, she's pregnant.' I was too excited to even read the caption. Then someone told me she was having with twins and I immediately cried tears of joy. — Lindsay Good
Red Carpets Galore
So many E! red carpets—Brad Pitt and Jennifer Aniston at the Emmys, the canceled 9/11 Emmys, the re-booked after 9/11 November Emmys with fully armed militia and tanks surrounding us, getting a gun flashed at me by a Golden Globes security guard trying to wrap our coverage, getting Tom Cruise with Joan Rivers back when stars and reps were scared of her, Star Jones and Kathy Griffin taking over for Joan and Melissa Rivers, Ryan Seacrest and Giuliana Rancic taking over for them, Brad and Angelina Jolie at the Globes, sad Kobe Bryant news on Grammys day, Brad in the Glambot at the Oscars, and all the amazing teamwork under Linda Kim's leadership. — John Wood
Mario Testino/Clarence House
Kate Middleton & Prince William's Love Story
I have always been a fan of the British Royal family. So, when Prince William and Kate Middleton announced their engagement, I was very invested. For their 2011 nuptials, my girlfriends and I got up before dawn in order to catch every moment. From the Queen's announcement of William and Kate's new titles to the reveal of the bride's ICONIC wedding dress, you could not tear us away from my dorm's TV.
After years of Kate, now the Duchess of Cambridge, being hounded by the press, seeing her marry the love of her life felt like a real-life fairytale. Sorry, Julia Stiles. This was the real The Prince & Me! — Alyssa Ray
O.J. Simpson Verdict in 1995
I was in Spanish class in high school when the teacher turned on the TV so we could hear the O.J. Simpson murder trial verdict—but I also vividly remember even then awaiting David Letterman's Late Show monologue that night to see what he would say. And I'll never forget him strolling out and opening with, "What's new?!" — Natalie Finn
Jay-Z and Solange's 2015 Elevator Fight
For me, nothing will ever top Solange and Jay-Z's Met Gala elevator showdown. The whole incident still blows my mind; everything from the location and the photographs to the people involved and the mystery that still remains about what actually went down continues to baffle me. And then, as if the whole situation couldn't be any more thrilling, Beyoncé went on to drop the iconic line, "Of course sometimes sh-t go down when it's a billion dollars on an elevator," in the "***Flawless (Remix)." A true pop culture-defining moment, for sure. — Emily Belfiore
A Run-In With Brad Pitt & Angelina Jolie
I remember first watching E! and the red carpet coverage. I grew up in a small town in New Hampshire and had never seen anything like it. As I got older and moved out here I would watch and talk to my older sister on the East Coast about the celebrities and their red carpet looks and interviews and think how cool those events looked. It's something we still do now, even when I'm working a red carpet and she messages me about what celebrities are wearing and if I can see them on the carpet! And I watch now with my daughter who loves to look at the "pretty ladies." For me working here nearly 15 years I'm still excited about our red carpet shows, watching and working them and to see how they've evolved over the years with celebrities using them to spotlight important issues.
One of my personal, more memorable red carpet moments, I think was at the Golden Globes, during our live show and trying to get Brad and Angelina back in the day to stop and talk to us. I had my arms stretched out wide to basically block them from moving past me. Nothing like have people in your ear yelling at you that you have three seconds to get them in position, using yourself as a human wall and navigating around a packed red carpet of talent and reps. — Noelia Murphy
MARK RALSTON/AFP/Getty Images
2017 Oscars Best Picture Mix-Up
Personally, one of the most vivid memories that will forever be engrained in my head is the 2017 Oscars where the infamous envelope mix-up happened. That definitely was a moment in pop culture history that I will never forget. I remember being in the press room watching the live telecast and waiting for the winners to walk back. Everyone in the room let out a huge gasp when Faye Dunaway and Warren Beatty acknowledged they had announced the wrong winner for Best Picture. Everyone sitting next to me was in utter shock and couldn't believe what they were witnessing. It was an adrenaline rush for sure! — Amanda Williams
Continue celebrating E!'s 30th anniversary here!
Watch a brand new episode of Nightly Pop Monday at 10 p.m., Wednesday at 11:30 p.m. and Thursdays at 11 p.m., only on E!