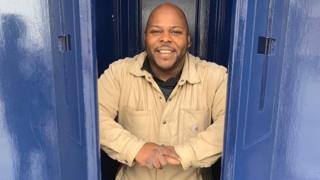 A black trainee vicar was rejected for a job by church bosses who said his potential parishioners were "monochrome white working class".
In an email sent in response to his application, Augustine Tanner-Ihm was told he "might feel uncomfortable" in the curacy role at the parish.
The email said despite his "obvious gifts", it was "not worth pursuing a conversation" about the vacancy in southern England.
The Church of England has apologised.
Reverend Seminary Tanner-Ihm, who is from Chicago and is studying at Durham University, applied for a role as a curate at a church in the south of England.
In response, he got an email saying: "We are not confident there is a sufficient 'match' between you and the particular requirements of that post.
"The demographic of the parish is monochrome white working class, where you might feel uncomfortable."
Reverend Seminary Tanner-Ihm, 30, said his reaction to the letter in February "was pain, deep pain".
"As an African-American man from Chicago, with parents and grandparents who lived during the civil rights movement, I was under the understanding that my race has nothing to do with my ability to minister," he said.
"I think the church has institutional issues with [racism]."
The Rt Revd Chris Goldsmith, the Church of England's director of ministry, said: "We take very seriously any allegation that a curacy post, or any other position, may have been denied to someone on the grounds of their ethnic heritage."
He said a member of his team had "reached out" to Reverend Seminary Tanner-Ihm to learn about his experiences, adding: "We have also established that the diocese concerned has recognised its failure in this and sent a written apology to [him].
"We fully recognise that the Church of England has a lot more work to do to become a place where our leadership is representative of the rich heritages of all the people of England."
Follow BBC North East & Cumbria on Twitter, Facebook and Instagram. Send your story ideas to northeastandcumbria@bbc.co.uk.