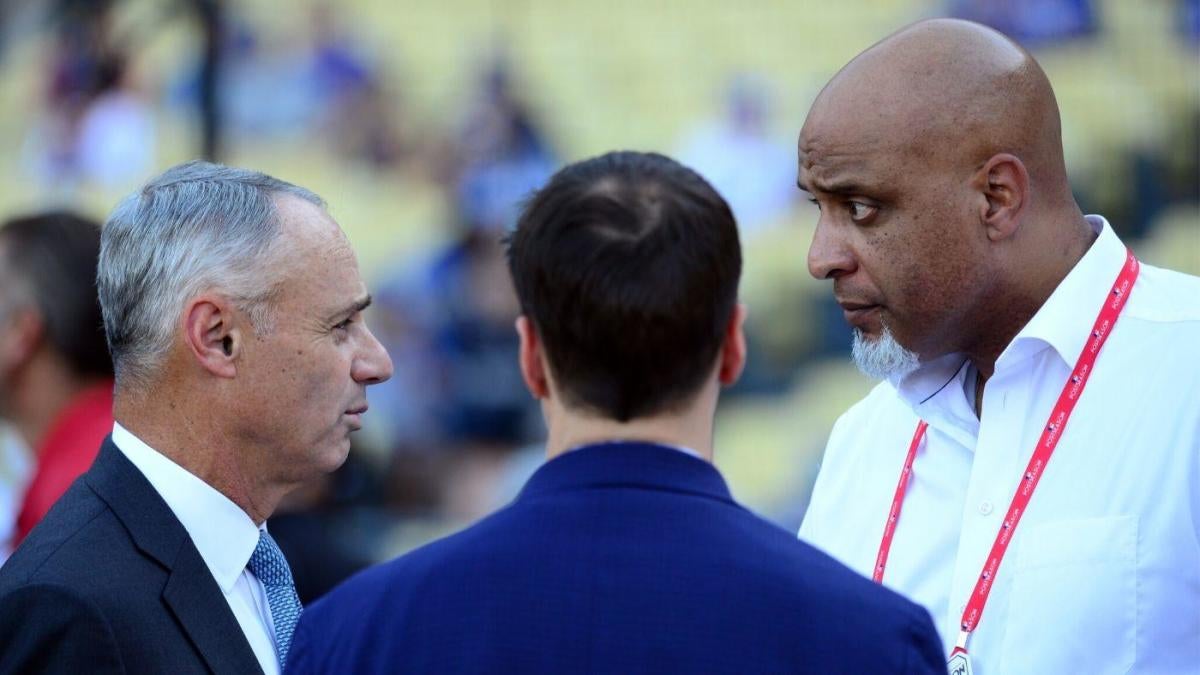 Amid a labor standoff that threatens the 2020 season, MLB commissioner Rob Manfred and MLBPA head Tony Clark had a "productive" face-to-face meeting, per MLB Network's Jon Heyman. Following this meeting, MLB presented players with a revised proposal to begin the 2020 season, per multiple reports.
Heyman adds that as part of the potential agreement, the MLBPA has agreed not to file a grievance. The possibility that the union would file a grievance proved to be a major impediment to a deal earlier this week. According to Heyman, owners in the latest proposal have agreed to pay players their full prorated salaries. If the grievance has indeed been shelved and owners have indeed agreed to honor the March accord in which players agreed to pro-rate their 2020 salaries based on the number of regular season games played, then those are two major hurdles eliminated. As such, it seems likely that players and owners will arrive at a negotiated agreement to start the 2020 season.
CBS Sports HQ analyst Jim Bowden reports that the league's proposal is for a season of 60-something games. The Athletic's Ken Rosenthal, meanwhile, says MLB's latest proposed season would start on July 19 or 20.
This marks a notable change in course, as it appeared for a time that negotiations were at an end. Owners and players had been discussing a number of issues related to the 2020 season, which has been put on hold because of the COVID-19 pandemic. But negotiations appeared to be over after owners made repeated proposals that in essence didn't alter their position. Players, in turn, made repeated proposals that did entail significant concessions.
Largely, the dispute has been over the matter of player compensation for 2020, but the dispute is entirely one of ownership's choosing. As noted, he two sides came to an agreement on pro-rated salaries, and in that same agreement players consented to allow Manfred to implement a season of any length in the absence of negotiated deal.
At some point, however, owners decided they didn't want to abide by that agreement and insisted that players agree to additional salary reductions over and above the prorated structure to which they agreed, citing that most games will likely be played in front of empty stadiums. Players, in turn, refused on the grounds that salary for 2020 was already a settled matter.
Since owners' prior proposals all sought to cut salaries to a very similar extent, the players announced negotiations were over and that Manfred was free to implement a season structure per the March agreement. "Tell us when and where" has been the rallying cry for players.
Given that Manfred had previously guaranteed with "100 percent" certainty that a 2020 season would be played, the expectation is that he would do just that. However, Manfred days later walked back that guarantee, likely in response to a block of owners willing to kill the season as a jab at players. That seemed to put the season in peril all over again.
These reports, though, suggests that further negotiations have taken place and are bearing more fruit than ever. Suffice it to say, it's in the interest of all vested parties to make a season of some kind happen.