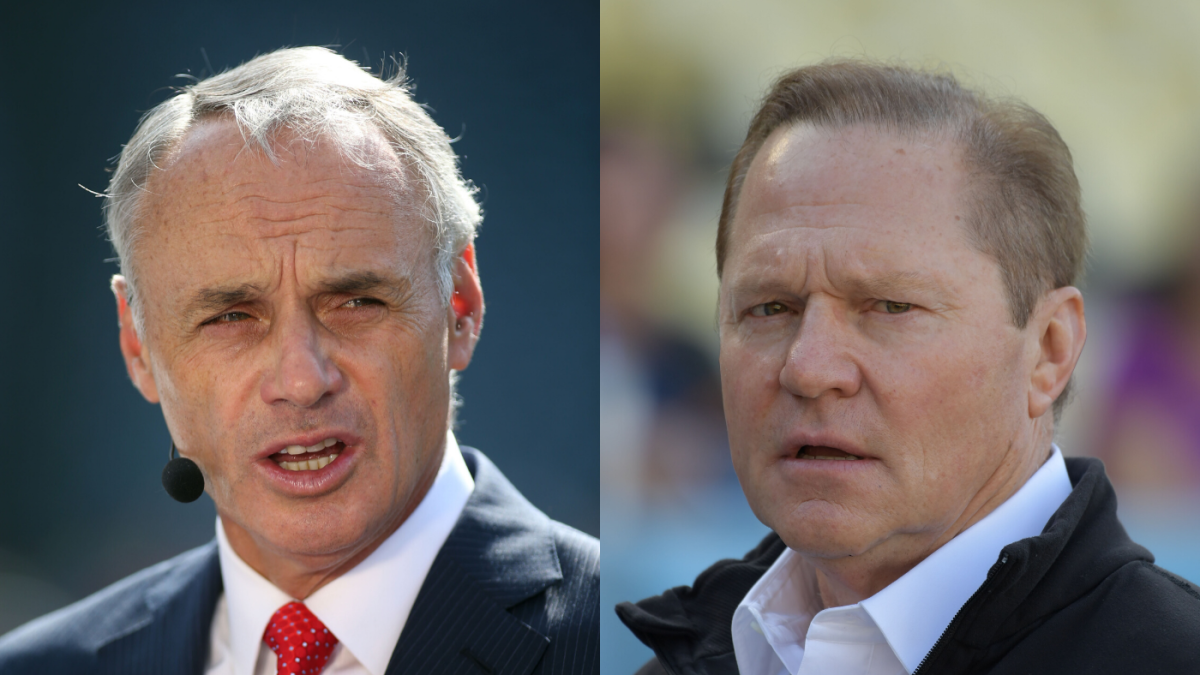 As the thus far nonexistent 2020 MLB season continues to be defined by its uncertainty, patience is thinning. Speaking of which, super-agent Scott Boras recently had some unsparing things to say about the performance of MLB commissioner Rob Manfred throughout the current labor crisis.
Manfred not long ago "100 percent" guaranteed that there would be a 2020 season, but he then he walked back those firm claims mere days later. All of that prompted Boras to say this to Tom Verducci of Sports Illustrated:
"He's being the pancake commissioner, where 'I'll flip anywhere I want to. When you negotiate publicly, once you say it, if you go down a different road you lose credibility. When he said on draft day '100 percent we're going to have baseball,' the commissioner said there's a chicken in every pot."
More from Boras, via Verducci:
"The TBS contract was the rectal thermometer. It illustrated the truth to all the fans, and that is the content of this game has such value even in the heart of a pandemic that you get a record contract for your rights. When I say rectal thermometer, I say it as the truest form of the temperature of the game."
Boras, as always, delights in bombast and provocation, but there's truth in what he says. The TBS contract refers to the recent reported deal between MLB and Turner Sports that will pay the league more than $1 billion for a suite of postseason broadcast rights. That story broke less than 24 hours after MLB made its latest proposal to players — yet another proposal in which owners showed little willingness to negotiate in any genuine sense of the term — and it certainly complicates their non-credible claims of financial strife.
Otherwise, Boras is making the obvious point that Manfred in a matter of days went from an ironclad guarantee to saying there might not be a season after all. Manfred, despite perceptions of impartiality and a mandate to see to the game's greater good, is at heart an employee of MLB's 30 owners. At a basic level, he's tasked with representing their interests. On that point, it's worth noting that at least six owners reportedly may not want to play a season at all, and that may explain Manfred's waffling. That said, playing "border collie" to a mostly entitled set of billionaires is also part of Manfred's job, and at some level he should be able to steer them away from self-destructive fits of pique. It remains to be seen whether he can do that with regard to the 2020 season. At the very least, he's guilty of misplaced certainty.
By way of recap, the ongoing standoff between owners and players is largely over salary. The two sides came to an agreement in late March in which players agreed to prorate their 2020 salaries based on the number of regular season games played. In that same agreement, players also agreed to allow Manfred to implement a season of much shorter length than they preferred (i.e., 48 or 50 games, probably), in addition to green-lighting cost-saving measures for the draft. At some point, though, owners decided they didn't want to abide by that agreement and forced a labor struggle over it. Owners have insisted that players agree to additional salary reductions over and above the prorated structure to which they agreed, citing that most games will likely be played in front of empty stadiums. Players, in turn, refused on the grounds that salary for 2020 was already a settled matter. All of the owners proposals have in essence been the same in terms of total compensation, while the players have steadily reduced the number of regular season games called for in their proposals.
Most recently, players stated further negotiations would be fruitless and gave Manfred the green light to implement a regular season structure, as allowed by that March agreement. "Tell us when and where" has been the rallying cry for players, but now Manfred and owners are walking back those earlier "100 percent" claims. That brings us back to Boras' sharp words.
If the recent comments of Yankees president Randy Levine are any guide, then perhaps there's some cause for optimism after all. That, of course, remains uncertain, and getting at least 75 percent of owners — the super-majority required to move forward — to be of a similar mind remains Manfred's challenge.