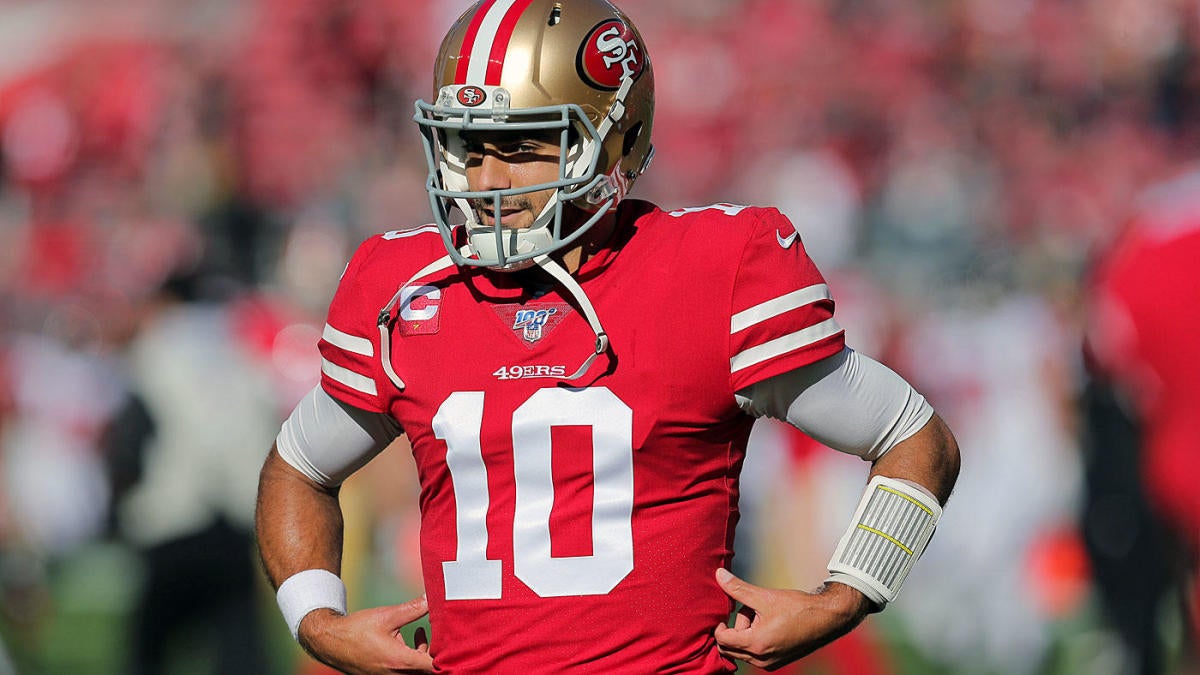 The San Francisco 49ers just recommitted to coach Kyle Shanahan with a six-year contract that'll keep him in the Bay Area through 2025. Earlier this offseason, however, the Niners weren't necessarily as sure about a long-term commitment to Shanahan's quarterback, Jimmy Garoppolo, admitting that they had "internal discussions" about pursuing Tom Brady. Months later, Garoppolo himself appears unbothered by that reality, telling The Athletic this week he still has the utmost respect for his team.
"It kind of comes with the territory," he said, per Matt Barrows. "It comes with the job … The one thing I can say about the whole situation was Kyle and (general manager) John (Lynch) were very honest with me the whole time. That's their job — to put the best team together possible — and you've got to respect that. So as long as the honesty and truthfulness is there, I respect those guys, I love those guys. And it's going to be a fun year this year."
Lynch made it clear when he revealed the Niners considered Brady that he and Shanahan quickly decided Garoppolo was still San Francisco's long-term answer at QB. The GM said the front office is "more convicted than ever" about building around Garoppolo, who of course began his career under Brady with the New England Patriots, and added that the team is "committed to him as ever." And Garoppolo buys that, according to Barrows, reiterating after a recent workout that every organization is on the lookout for talent.
"It's the NFL," Garoppolo said. "There's competition. Everyone's trying to put the best team together they can. And that's just the reality of it."
Brady, of course, may have made the decision for the 49ers by signing with the Tampa Bay Buccaneers. But Lynch argued in April that the Niners were the ones who chose Garoppolo as their QB. The latter is under contract with the 49ers through 2022, thanks to a five-year extension signed in 2018. He's also got the support of countless teammates, including Pro Bowl tight end George Kittle, who have publicly defender Garoppolo as San Francisco's future under center in light of Brady speculation.