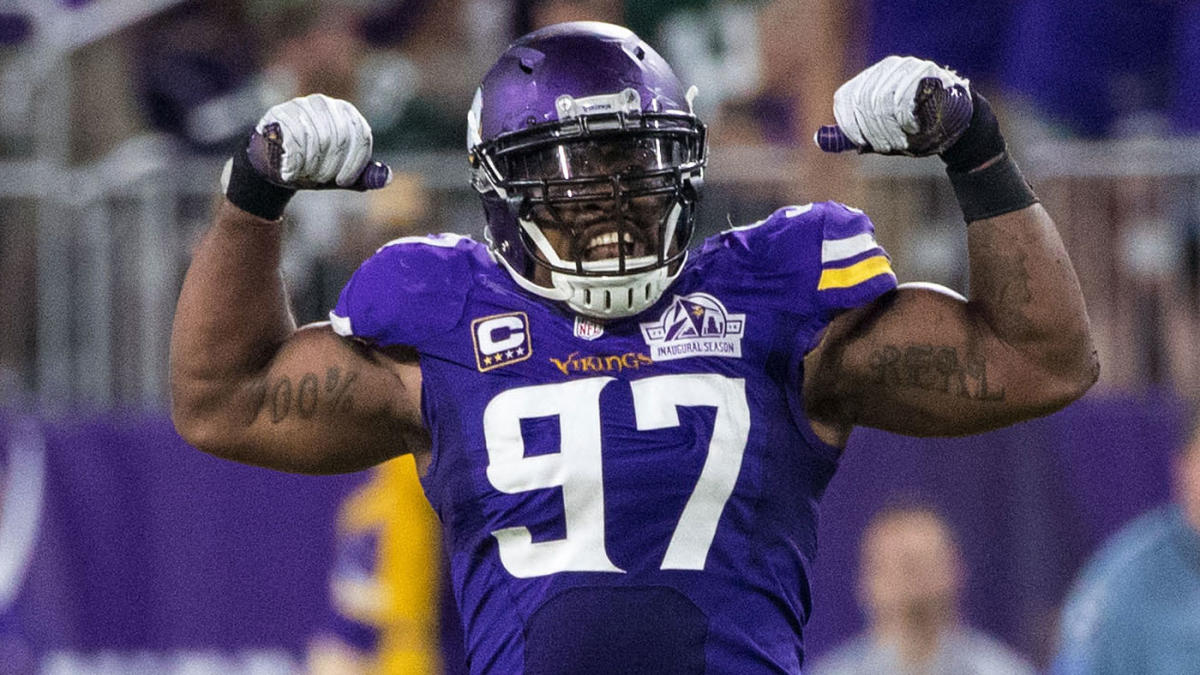 The Philadelphia Eagles revamped their offense this offseason, giving franchise quarterback Carson Wentz more speed at the wide receiver positions in an effort to provide more speed across the board. Jalen Reagor, John Hightower, and Quez Watkins were selected in the draft, adding to a young nucleus of Miles Sanders, Boston Scott, and Dallas Goedert at the still positions. Veterans like DeSean Jackson, Zach Ertz and Alshon Jeffery are still major contributors to the roster aided by the offseason acquisition of Marquise Goodwin.
Philadelphia's offensive line has moved on from Jason Peters (for now), trusting Andre Dillard to be the franchise left tackle. Even with Dillard, the Eagles still boast one of the best offensive lines in the NFL. The Eagles will rely on the offensive line to protect Wentz, who did start and finish all 16 regular season games last season but left the playoff loss in the opening quarter with a head injury.
The Eagles added more speed on defense as well. Philadelphia signed Will Parks and Nickell Robey-Coleman in free agency while moving Jalen Mills over to safety and drafted K'Von Wallace in an effort to restructure the secondary. Javon Hargrave was added to the defensive line and Philadelphia selected linebackers Davion Taylor and Shaun Bradley in the draft. A faster defense with coaching staff changes in Marquand Manuel (defensive backs coach) and Matt Burke (defensive line coach) are the adjustments the Eagles believe will make them a top-10 unit again.
Coaching changes were made on the offensive side of the ball too. The Eagles want more big plays downfield, adding new wrinkles to the offense with former Denver Broncos offensive coordinator and San Francisco 49ers quarterbacks coach Rich Scangarello (named senior offensive assistant) and the promotion of Press Taylor to passing game coordinator. Philadelphia also added former NFL wideout Aaron Moorehead as wide receivers coach, the Eagles' fifth different coach there in five years under Doug Pederson.
Even with a new-look roster, the Eagles project to be a playoff team and a NFC East contender — but not good enough to compete and win a Super Bowl. The Eagles have a projected $24.7 million in cap space to spend, so more offseason moves can be made if they want to evolve their roster and become a Super Bowl contender. They could roll into 2020 with the roster they have and take their chances, but adding more depth at certain positions is paramount, especially with Wentz heading into the prime of his career.
Here's a look at three moves the Eagles need to make to become one of the top teams in the NFC, with the first one being the biggest priority and the last one the least of their concerns:
1. Add a veteran pass rusher
The Eagles value the pass rush on the edge too much to let this slip. Brandon Graham and Derek Barnett are more than fine as starters at defensive end, but the Eagles have plenty of question marks here. Josh Sweat was impressive as a rotational pass rusher and as a No. 4 defensive end, but is he ready to fill Vinny Curry's role as the No. 3 defensive end behind Graham and Barnett? Conventional wisdom says yes, but the Eagles are risking a lot if last year was just a mirage instead of Sweat naturally progressing as an edge rusher.
The Eagles traded a 2021 fourth-round pick for Genard Avery and spent a 2019 fourth-round pick on Shareef Miller. The edge rushers played a combined 33 defensive snaps in 2010 — all of which were by Avery, who was acquired at midseason. One of those two are in line to become the No. 4 defensive end, asked to fill Sweat's role from last year.
What about Barnett? Are the Eagles convinced he can be better than an edge rusher that flashes at times than disappears on other occasions? Or would Barnett (and Graham) be more effective splitting the snaps with a veteran on the edge that can get to the quarterback? Perhaps the answer is Malik Jackson, who can play on the edge when Javon Hargrave and Fletcher Cox are lined up at defensive tackle. But is Jackson going to be fully recovered from his LisFranc injury?
Here's where Everson Griffen comes in. While Griffen isn't planning on signing with any team until he can visit team facilities, 74.5 sacks in 10 seasons is nothing to scoff at. Griffen has just 13.5 sacks over the past two seasons, but had 35 pressures and 13 hurries in 15 games last season. Griffen may not be a starter anymore, but can still get to the quarterback. Sounds like an ideal fit for a No. 3 edge rusher that can start on a one-year deal.
Jadeveon Clowney would be great for the Eagles defense, but he doesn't appear to be an option at this time. Perhaps the Eagles have a change of heart and can land Clowney at an affordable price, but Philadelphia should focus on adding one of those two edge rushers. Ezekiel Ansah could also enter the picture as he's played in Jim Schwartz's scheme before with the Detroit Lions. Schwartz's defense doesn't excel without a good pass rush and the Eagles place a huge premium on rotating players and getting to the quarterback consistently.
Seems foolish to just pass on two defensive ends in Griffen and Clowney who could make the defensive line even better.
2. Re-sign Jason Peters
This isn't about the Eagles' faith in Andre Dillard and whether he can start at left tackle for this team for the 2020 season and beyond. This is about having a reliable backup offensive tackle in case Dillard or Lane Johnson goes down with an injury.
The Eagles' current backup tackles are Jordan Mailata and Prince Tega Wanogho, both of whom have never played a single regular season snap of NFL football. Are the Eagles really going to enter a season with such unproven commodities at the No. 3 tackle position, especially in a year where Wanogho (a 2020 sixth-round pick) doesn't have any minicamp reps because of the coronavirus pandemic? Let's not forget Mailata can't get on the field because of multiple back injuries that appear to be recurring (stress fracture in rookie year and disc protrusion in the L5 area last season), landing him on injured reserve both years he's played.
Generalizations are ridiculous. Signing Peters doesn't mean he's going to start at left tackle in place of Dillard or Dillard has to look over his shoulder every time he misses a block or doesn't get to his blocker quick enough. This is about protecting a franchise quarterback in case Dillard or Johnson miss games due to injury with a future Hall of Famer and (still) a top-10 tackle in the league.
Dillard has a lot of potential and the Eagles have to see if their 2019 first-round pick can play at this level, but having Peters around as insurance and a veteran mentor will pay huge dividends for Dillard's confidence going forward. Bring Peters back and give Mailata and Wanogho the necessary reps to develop in training camp and preseason.
Protect Wentz at all costs. It's that simple.
3. Add a veteran running back
Devonta Freeman is mulling his options and wants more money than he's worth (does he deserve to be paid nearly $4 million a year?). Freeman averaged a career-low 3.6 yards per carry last season as foot and knee injuries have limited his effectiveness. Freeman has just 724 rushing yards and played only 16 games the past two years. That's a steep price for Philadelphia, even if he would be an ideal No. 2 running back behind Miles Sanders, leaving Boston Scott in the Darren Sproles role (he still would get the same amount of snaps if Freeman was on the roster).
Now for the potential LeSean McCoy reunion. The Eagles are interested in bringing back McCoy, but have yet to offer him a contract. Philadelphia's all-time leading rusher is past his prime and rushed for a career-low 465 yards last season, being a game day inactive in the AFC Championship Game and Super Bowl LIV (played just one snap in the postseason). If the Eagles do bring back McCoy, he's just a veteran option behind Sanders who still can provide insurance as a reserve back. Scott would have an expanded role as a pass-catching back, even with McCoy on the roster (remember the Eagles use a running back-by-committee approach). The Eagles won't be asking McCoy to carry the ball 150 times, but he would certainly get around 100 carries as an effective No. 2 (he did average 4.6 yards per carry last year).
If Sanders or Scott were to go down with an injury, McCoy can be trusted upon to get 5-to-10 touches a game on a veteran minimum deal. Even though it's easy to write off McCoy, he still is determined to prove there's something left in the tank at 31 (he turns 32 in July). He'll also get to finish his career in Philadelphia, which he wants in the first place.
The Eagles have been burnt by veteran running backs over the past two years in bringing back Darren Sproles, but also had success with LeGarrette Blount three years ago. Signing McCoy is a low-risk, high-reward move that is just a luxury in case Corey Clement or Elijah Holyfield doesn't pan out as a No. 3 or No. 4 option, since Clement has been hindered by injury and Holyfield has never played a regular season snap in the NFL. Philadelphia is likely going to keep four running backs anyway, so why not have McCoy compete for a job?
Freeman costs too much (at the moment) and McCoy is a veteran option that the Eagles' aren't sure if he has any tread left on his tires. A veteran running back is a nice luxury, but it isn't cringeworthy to enter camp with Sanders, Scott, Clement and Holyfield. McCoy would be an ideal option as a camp body to compete for a job. The best-case scenario is a reliable backup to Sanders and Scott, adding more depth to the running back group.